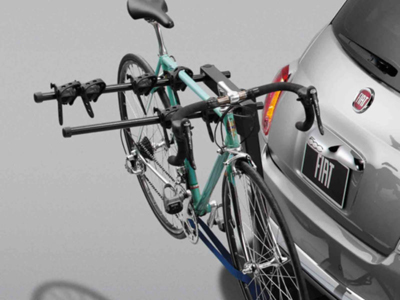 Bicycle Carrier, Hitch-Mount
In partnership with Mopar, Thule, the leading US manufacturer of car rack systems, offers Roadway hitch-mount bike carriers. This hitch mount carrier sets the standard for performance and ease of use. The improved swingaway design allows for rapid rear vehicle access. The Stinger-Swinger hitch converts quickly from 2 inch to 1-1/4 inch out of the box and the Hitch-Switch quick release lever allows for fast storage of bike carrier arms. The T3 cradles lock down bikes and cradles while still allowing complete adjustment along bike arm and the No Sway Cage prevents bike-to-bike contact. This is a Mopar-approved Specialty Accessory.

Click here to view a PDF of the installation instructions.
Thule Vertex 9028, two bike hitch-mount­ carrier, fits 2 inch and 1-1/4 inch receivers Part Number THVE9028List Price: $295.00 | Your Price $265.20
Add To Cart
Thule 982 Frame Adapter allows for easy attachment of women`s, BMX, and non-standar­d frame bikes to hitch or spare tire-mount racks. Telescoping­ design adapts to multiple frame styles and sizes, push-button­ ends enclose headset and seat post, and molded rubber ends protect bike finish. Part Number TH982BFAList Price: $29.05 | Your Price $24.42
Add To Cart